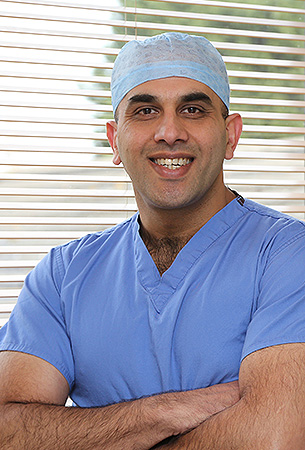 Ali Bajwa
MBBS, MRCSEd, MSc Orth, MPhil (Cantab), DSEM (Uk & I), MFSEM (UK), FRCS Tr & Orth (Ed)
Ali Bajwa - MBBS, MRCSEd, MSc Orth, MPhil (Cantab), DSEM (Uk & I), MFSEM (UK), FRCS Tr & Orth (Ed)
Special clinical interests
• Hip Arthroscopy
• Knee Arthroscopy and Ligament reconstruction
• Cartilage regeneration procedures Hip and Knee
• Hip and Knee Joint replacement
• Sports Injuries, Ligaments and Tendons

Research interests
Mr Bajwa teaches and lectures extensively. His current research interests include novel materials, ligament regeneration, minimally invasive fracture fixation devices, arthroscopy outcomes and techniques to aid rapid return to sport after injury. His academic work at Darwin College, Cambridge won the university 50k prize. He has invented Orthopaedic devices, authored numerous scientific papers, completed two Degree level theses and successfully filed over a dozen patents. His work is well-published and has won several awards. For a full list of his publications please search www.pubmed.com for AS Bajwa.

Current membership(s) of professional, national and regional bodies
General Medical Council (Specialist Register, GMC no: 5196066)
Royal College of Surgeons of Edinburgh
Faculty of Sports and Exercise Medicine (UK)

Professional profile
Ali Bajwa is a specialist Orthopaedic surgeon who exclusively performs hip and knee surgery with particular interest in Sports Injury and Arthroscopy (key-hole surgery). This includes major knee ligament reconstructions such as Anterior and Posterior Cruciate Ligaments (ACL and PCL), Hip arthroscopy, Femeroacetabular impingement (FAI), joint preservation, cartilage regeneration and dealing with tendon degeneration and tears. He undertakes modern Joint replacement surgery of Hip and Knee in patients with advanced arthritis where joint preservation is not possible. He offers Total and Partial replacement of the joints including computer navigation and shape-matched surgery.

The ethos of his practice is to provide high quality, patient-centred care while tailoring the treatment to each individual patient, based on the best available evidence, which may include surgical or non-operative treatment.

Ali Bajwa completed his Basic Surgical and Specialist Training in Orthopaedic and Trauma surgery in the Newcastle-upon-Tyne Deanery where he was awarded the Kreibich Prize. He had the Fellowship in Orthopaedic and Trauma surgery bestowed by The Royal College of Surgeons of Edinburgh. He also gained a Master in Orthopaedics degree. In addition, he received MPhil Degree from the University of Cambridge where he read at the Darwin College.

As an adjunct to Orthopaedic specialisation, Ali Bajwa gained his Sports Medicine qualifications from the Royal College of Surgeons of Edinburgh and was awarded the MacLeod's Medal for best performance.

Following completion of specialist training, he undertook two Fellowships at distinguished centres of Excellence. The first Fellowship was with Mr Richard Villar in Hip Arthroscopy in London, UK, learning the pioneering techniques in hip preservation surgery. The second Fellowship was at an Orthopaedic centre in Adelaide, Australia, which is world-renowned for treatment of Knee and Hip Arthroscopy, Sports Injury and Joint replacement. On his return he took up a NHS Consultant Post at the James Cook University Hospital, Teesside, before moving in to full-time independent practice joining The Villar Bajwa Practice.

Personal profile
Ali Bajwa describes himself a passionate sportsman who spends his life in pursuit of challenges ranging from athletics and climbing through to expeditions. As an athlete he earned the Cambridge Blue for Discus throwing and competed at National and International level. He remains a keen thrower and mountaineer, and his strong sense of adventure recently led him to the magnetic North Pole.
---
The Villar Bajwa Practice
The Princess Grace Hospital, 30 Devonshire Street, London, W1G 6PU

Tel: +44 (0)207 908 3777 Fax: +44 (0)203 752 6501 E-mail: enquiries@villarbajwa.com